Class News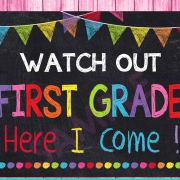 July 31st, 2019
We hope you have had a great summer and are ready to get back to school and LEARN! Our STA faculty and staff are confident you will have a fantastic
READ MORE
January 20, 2020
We are hope you enjoy the extra day off in honor of Martin Luther King on Monday. The class completed a directed drawing of Mr. King and wrote about their dreams. Feel free to stop by and see the kids work.
We can't believe that this week is the end of the second quarter. Wow, has it ever gone fast!
This is what we will be learning in school this week.
Math- During the next week, we will learn how to solve a variety of word problems. The class will also work to understand the equal sign and solve equivalent expressions to make true number sentences.
Superkids- We are finishing Unit 9 this week with a spelling test on Thursday. The memory words are would, could, some, one, new, and were. The pattern words are pain, rain, train, boat, coat, eat, heat, seat, deep, keep, and sleep. Friday we will begin Unit 10 which teaches how to read and understand n't contractions and decode words with the suffix -er. This unit is different in that there are just words to memorize for the spelling test and they are didn't, hasn't, isn't, aren't, haven't, wasn't, weren't, couldn't, wouldn't, don't, can't, and won't. This is the last unit in our Adventures of the Superkids. The class will turn in their readers and get a new one titled More Adventures of the Superkids. They just love getting the new books and perusing the stories that will read in the second half of the year.
Writing- We will work in sentence structure as well as learn how to edit incorrect sentences and make changes to the mistakes.
Religion- Our chapter is about the church and the people who lead the church.
Science- This week we will continue to learn about the penguins attributes that help it survive in their environment.
Social Studies- Our magazine focuses on the ice castles that are built in China for the winter ice festival.
The week of January 28 – February 1st is our Catholic Schools Week. Although it is not for another week, we wanted to give you a preview of all the dress up days. All days are optional and if your child chooses not to dress up, they must wear their regular uniform.
Sunday, January 26th- Academy mass at 9 am.
Monday, January 27th/Motivational Monday- Kids wear our class color which is our tie dye with jeans or their regular school bottom.
Tuesday, January 28th/Team Tuesday- Wear your favorite team jersey with your PE shorts.
Wednesday, January 29th/World Wide Wednesday- Students can wear a multi-cultural outfit or red, white, and blue. The multicultural lunch will be served that day. The lunch costs $5 per student. If you don't wish to have your child to eat the multicultural lunch, please send in a lunch from home. See the flyer online or in the WAAG to order your lunch.
Thursday, January 30th/Throwback Thursday- Dress in an outfit from previous decades.
Friday, February 1st/Family Fun Friday- Students may wear spirit dress and blue jeans or regular uniform.
Thank you to those families who have donated items to our class store. If you would like to help us out, please send them in with you child by Thursday. Thank you!
Have a great three-day weekend!
Shauli
Angie