Class News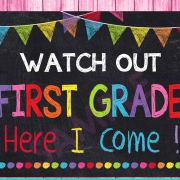 August 16th, 2018
We hope you have had a great summer and are ready to get back to school and LEARN! Our STA faculty and staff are confident you will have a fantastic
READ MORE
January 14, 2019
Good Afternoon,
We have been working hard on our Minute and a Half to Win it drills this week. The kids are enjoying it, but also beginning to understand how important it is to memorize the math facts. We will teach them a few skills to help them improve in getting quicker with their facts. Feel free to ask them which math fact they are on and you can drill them on the car.
On Thursday you will be getting the whole set of FRY words. As you progress to the harder words please have your child not only read them, but give you a definition of the word. This will not only help with their fluency when they come across these words, but it will help their comprehension.
It's that time of year when the kids start to grow. We can tell by the length of their uniforms. 😊 Please remember that the girls skorts and jumpers need to be no higher than an inch above the knee. If you do need some new uniforms, feel free to contact Mrs. Gorney. She does have uniforms that have been donated and you can have at no cost.
The week of January 28th is Catholic Schools Week. Each day there will be a specific activity. More information was in this weeks WAAG and will be printed again in the next WAAG. I just wanted to give you a heads up that on our class color day, our color is black. Your child has the option of wearing a black shirt with jeans on that day.
If you have been out shopping lately, you'll notice that Valentines are already out. If you are interested in buying them now, we have 31 students in our class. If you would like to hand out Valentine's you must give one to each child. We think it is easiest to write To- My Friend or no name at all and From- Your Child's Name. It makes passing out Valentine's so much easier. It seems odd to be talking about Valentine's when we have just started January, but it will be here before we know it.
Below is what we have planned for the week.
Math- Finish reviewing telling time to 5-minute increments. We will have a Math Test on time on Friday. IXL C, G, U.4, U.5, U.6
Superkids- We will finish Unit 7 this week. The spelling test on memory words and pattern words is on Wednesday. First grade will be taking their STAR Reading tests this week. This test will determine their current reading level and will help us adjust AR books as needed. Half the class will take it on Wednesday and the other half on Thursday. The results from the test will go home with the 2nd quarter report cards. IXL N.3, N.4, T.1
Writing- We will continue to learn about the parts of a paragraph. We will also write a paragraph about winter.
Religion – The next chapter in Religion is how Jesus called the apostles.
Science- We continue to learn about sound and light by experiment with dark boxes and sending messages using either light or sound light.
Social Studies- Our Social Studies Weekly will cover the concept of folklore.
We hope you have enjoyed our beautiful weather, rain is on it's way!
Shauli
Angie