Class News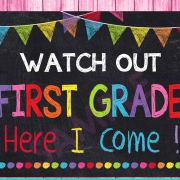 July 31st, 2019
We hope you have had a great summer and are ready to get back to school and LEARN! Our STA faculty and staff are confident you will have a fantastic
READ MORE
December 09, 2019
What a great week full of learning and fun! We went to the Grinch, made gingerbread houses, had our class performance, celebrated the Feast of St. Nicholas, and our Barnes and Noble night was a huge success.
A huge thank you to everyone that came today for our class performance. The kids were so proud and had a great time. We have downloaded pictures from the past week on our Shutterfly account, including the performance. Please feel free to add any of your pictures to our Shutterfly account.
Next week is full of activity around the school. See below the special events of the week.
Wednesday, December 11th is our school wide music performance in the Social Center. Please have your child dress in their Christmas best for the day. Specific details about attire are in our WAAG which can be found online on our school website. The performance is from 1:30-3 in the Social Center and is always a treat to watch.
Thursday, December 12th is the Feast of Our Lady Guadalupe. Please bring a flower from home that will be placed in front of Mary in church. Following morning assembly, we will process as a school into the church and the sixth graders will lead a prayer service and skit.
Friday, December 13th is our last day before break. It is a half day and the kids can wear a Christmas shirt with jeans or their usual uniform for the day. We are going to have our class breakfast party and book exchange. Please bring your Secret Santa book wrapped with from and your child's name on it to school on Thursday. On our Shutterfly account there is a sign-up list for food and paper products that we will need for the breakfast. Also, please feel free to join us for breakfast, it's a family affair.
Below is what we will be doing in class.
Math- The class has done a fantastic job of learning how to make 10 when 9 is one of the addends. We are already seeing children doing this process mentally, which shows mastery. Next week, we are going to learn how to make 10 when one of the addends is 8. For example, 8+4= 12 or when you make 10 the problems is 10+ 2=12. Not only will the class be able to understand the process to make 10 from 8, but they will understand that 8+4=10+2.
Superkids- We will finish Unit 7 on Tuesday by taking the spelling test. The memory words to study for the test are oh, day, any, very, want, and good. The pattern words are came, game, same, ride, side, wide, joke, broke, spoke, cute, and flute.
Writing- We will complete our paragraphs about the most wonderful time of the year.
Religion- This week we will learn about Juan Diego and Our Lady of Guadalupe.
Have a great weekend and we will see you at school next week!
Shauli
Angie