Class News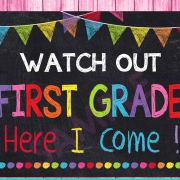 August 16th, 2018
We hope you have had a great summer and are ready to get back to school and LEARN! Our STA faculty and staff are confident you will have a fantastic
READ MORE
October 15, 2018
Good Morning,
We had a great time at Oma's on Friday. A huge thanks to all the chaperone's who came with us. We couldn't have done it without all your help. We added the pictures we took to our class Shutterfly account. If you took photos of the day, please feel free to add them to the First Grade Field Trip album.
In last week's WAAG instructions were sent home on how to sign up online for our parent teacher conferences in November. At our conferences at St. Therese we expect the students to also attend. If you have any questions, please let us know.
On Monday we will be completing our first class service project. Mrs. Hallak sent you information about the bags of clothes that we are going to prepare for children in need. We received a lot of clothes last week, but if you would still like to send in a gently worn outfit or new socks please send them in Monday morning.
In Monday's homework folder there is a letter from the diocese about the No, Go, Tell presentation that we will be giving to our class on Wednesday afternoon. On the back of the letter is the poster that we will discuss with the children.
Your child can wear a pink shirt with jeans for $1 on Monday and Wednesday of this week. The Making Strides Walk is on the 21st. My family is planning on attending the walk and we hope to see you there.
Just a reminder that there will be no school on Friday because of a diocesan planning day for all teachers.
Below is what we will be covering for the week.
Math- We are finishing up Unit 2 by reviewing subtraction on Monday. We will take a review test in class on Tuesday. The review will come home with your child in their homework folder Tuesday night. Please review the information for the test on Wednesday. Thursday we will begin Unit 3 with patterns. IXL A.11, any C, H.1
Superkids- We are starting Unit 3 which focuses on decoding /ng/ and /le/ words. Our memory words for this unit are do, have, show, how, me, and a. Pattern words are king, sing, bring, long, song, strong, candle, handle, battle, cattle, and rattle. We will continue to learn about the setting of a story and the problem and solution. IXL D.2, F.3, and F.7
Religion- We will learn that God speaks to us in many ways.
Science- We will continue to discuss the life cycle of plants. On Thursday we will complete another STEAM project with our 7th grade buddies. We will be building candy towers and learning about three dimensional shapes. If you would like to help us get prepared for this activity, please send in a bag of candy corn pumpkins.
Have a great weekend!
Shauli Willett
Angie Hernandez