Class News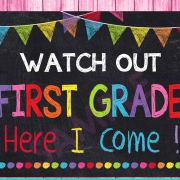 July 31st, 2019
We hope you have had a great summer and are ready to get back to school and LEARN! Our STA faculty and staff are confident you will have a fantastic
READ MORE
November 11, 2019
I am so thankful for the opportunity to have been able to meet with you and your children this past week. We are off to a great second quarter and please feel free to contact us if you need anything.
Our Grinch permission slips and money are due this Friday. The cost is $44.40 per student. Thanks for sending them in!
Thanks to everyone who has signed up to donate items for our bread making on Friday, November22nd. We need at least 6 adults to supervise each crew, but the more the merrier. Please send in the baking items on Tuesday November 19th. That will help us get prepared for the day. Thanks!
Sunday, November 17th is our school wide Pancake Breakfast from 7:30 -1. Each family will get six tickets in their WAAG this week. Please join us and enjoy our STA families, food, fun, and take part in our basket raffle. We are still in need for donations for our class basket, gardening. You can send your donation in with your child and we will give it to our basket making committee.
Here is what we are up to in class this week.
Math- This next week in math we will explore the addition chart and look for patterns. We will learn to use the addition chart to solve subtraction and find related number sentences. IXL G.1 – G.10
Superkids- We are finishing Unit 5 which focuses on decoding words ending with -ing and -ed. The spelling test will be on Thursday. The memory words are there, from, be, to, we, and or and the pattern words are helping, helped, asking, asked, hugging, hugged, shopping, and shopped. Friday we will begin unit 6 which reviews the short vowel sounds and teaches the long vowel sounds. IXL G, H, I, J, K, and L
Religion- This week we will learn why Jesus is referred to as our shepherd and that Jesus died on the cross to save us.
Social Studies- Our Social Studies Weekly magazine focuses on the concepts of the past, present, and future.
Science- This week we will be learning about the simple steps of engineering by understanding how teddy bears are produced.
Writing- We will be learning about the parts of a letter and begin our thank you letters that will go home with our loaves of bread.
Lastly, during conferences we discussed your child's reading level. To check if the book they are reading at home is in their level, please free to go to http://www.arbookfind.com/. Choose I am a parent and then you can search the name of the book that are reading.
Enjoy the extra day off and we'll see you Tuesday!
Shauli Willett
Angie Hernandez