Class News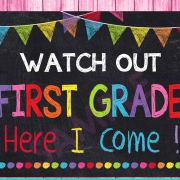 July 31st, 2019
We hope you have had a great summer and are ready to get back to school and LEARN! Our STA faculty and staff are confident you will have a fantastic
READ MORE
September 16, 2019
Good Evening,
What a great week!
The class started their reading rotations, enjoyed their first Fun Friday, took their first-grade pictures, and we created some beautiful pumpkin art.
We sent home the permission slips for Oma's on Tuesday. All money and permission slips are due Friday, September 27th. The CMG Connect email will be sent to our families that will be chaperoning soon. Thank you!
Although we are still in September, Halloween is right around the corner. On Halloween, Kindergarten through 8th grade participates in the Harvest Festival. Our class will go together to each class to play Halloween themed games. At the end of the rotations little toys/prizes are passed out to each child at the school. We need prize donations for our classroom. We already found ours in the $1 section at Target; mini bubbles, stickers, eyeball glasses, etc. Feel free to send them in with your child and we will store them until the event. Thanks!
Here's what we will covering this week in class.
*Math- During the next week, we will be learning how to solve various word problems in which there is a change to either the whole or part. Students will learn how to solve problems using a drawing, number bond, and a number sentence. The IXL lessons that align with these lessons are B.2, D.6, D.7. Your child's IXL username and password were sent home at Back to School Night.
*Superkids- This is our final week of Unit 1. We will read another story that focuses on the diagraphs -sh, -ch, -tch. Friday will be their first spelling test and we advise studying at home. The spelling test always consists of 10 words. We will test on all the memory words from the unit and then 4 random pattern words from the unit. The memory words are I, my, she, her, he, his and the pattern words are wish, fish, dish, dash, crash, trash, lunch, punch, crunch, catch, match, and patch. Also included in the test is an extra credit sentence from the unit. The sentence must have correct punctuation and spelling to earn the extra point. IXL B.1, A.1, GG.1
*Writing- We will finish, "I am a superkid" sentences.
*Religion- Chapter 2 is titled, "We Believe in the Blessed Trinity".
*Social Studies- Our Scholastic News is about having a positive attitude and not giving up.
* Science – To continue the concept of being a scientist, this week we will experiment with apples.
Have a wonderful weekend, we will see you Monday.
Shauli Willett
Angie Hernandez